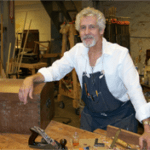 The darkness of depression nearly took me years ago, had it not been for the live broadcasts I listened to every morning. Dr. Cook was such a comfort to me.
We can trust the Lord is with us, no matter what. But it helps hearing a kind, human voice, such as my old friend, Dr. Cook, reassure and comfort in the Lord's name. I feel as if Dr. Cook is sitting right there with me. It reminds me that despite feelings or circumstances, it is well.
Dr. Cook comforted me in my time of need, and I know his comfort touches so many others too. My small contributions will hopefully help for other believers who need encouragement.
If I had to sum up Dr. Cook's ministry meaning, it would be reassurance. In spite of feelings or circumstances, all is well. If unfaithfulness, or sin, or guilt, or anything, tells us that we're removed from the love of God, Dr. Cook helps me remember that in the midst of everything, He has not removed Himself from us.
When I don't hear the voice of God, or feel His presence, listening to Dr. Cook express God's love for us is a reminder and a reassurance of God's love. We certainly can't run or hide from it.
I thank God for Dr. Cook's great love and compassion. Though we all fall short, Walk With The King amplifies that great, never-ending love that God has for us. In a hurting, desperate, sometimes hopeless-feeling world, I thank the Lord for the precious reassurance this ministry offers so many people.
Barry
Stories like these happen thanks to your support! To help us reach more listeners, please click the donate link below. Thank you!