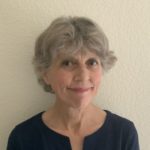 I am so grateful to the staff of Walk With the King Radio and Internet ministry!!! I've been a listener to this Ministry for about 30 years or more. My entire family has been listening in throughout the years. (My husband, and my two sons, who are now ages 21 and 26, and daughter 27).
Ever since I discovered this program – I've looked forward to waking up (literally I "spring up" to turn on the radio) just so I don't miss Mr. Cook's "Well, how in the world are you today?" start to his program.
These last few years have been especially stressful – with my Mother dying, my husband's brother, two sisters, and Stepdad all dying, the California fires (which have occurred 2 years now very close to where we live) and now this year's huge fires in the Sierras, the Covid and Variant diseases – the stress has been unbelievable!
BUT the wonderful thing is, I could always go to the Lord for strength and I discovered your fabulous internet website at WalkWiththeKing.org. This way, not only could I listen to your program on the radio in the morning, but I could also go to your website, turn it on and listen to the topics for Stress, Comfort, Fear etc. when doing the dishes, etc. to keep my mind occupied with edifying things in place of all of my worries.
These programs not only give me a calm, soothing voice to listen to, but Dr. Cook is also so very good in his Bible teaching and truths!! I replay and replay so many of his talks, because they are so rich and have so very many, many excellent insights.
Also, there is something wonderful about listening to Mr. Cook speak of his younger years: being a baby without his wonderful Mother, as she had passed away, hearing about the simple, frugal life he, his Father and sister lived in their small one-room flat, living on the farm with his relatives, walking through the snow early in the dark mornings following his Uncle and his brightly lit lantern to the barn, being an auto mechanic, flying world-wide to be a part of Missionary outreaches (even with Billy Graham!), being President of the King's College, being a Pastor over a Church, etc. The quiet stability of an AMAZING family heritage and the beautiful, faithful life he and his family lived (and live!) ministering to others – stabilizes me!!! For not only is it wonderful to have amazing Ministries – but when the family within the ministry remains faithful to the Lord – THEN you have a complete "package" to truly be encouraged by.
The blessing is, that it has all been done in humility and dependence on the Lord. This truly makes it easy to receive the teachings from Robert Cook and from your wonderful ministry. I make up little index cards with Walk With the King's information on them to hand out to others. When the people receiving these cards get back to me about listening to your programs – they say it's been such a blessing to them too!
So, please, accept my Gratitude for all that you have done and do now for me and others with this Ministry. I am finally becoming a supporter of this wonderful program.
– Trudy
Stories like these happen thanks to your support! To help us reach more listeners, please click the donate link below. Thank you!