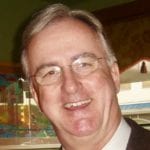 I don't remember how I found WWTK 40 years ago but Dr. Cook has been a role model and best friend ever since. And, no, we never met. It started in the early 1980's when I started listening every day to WWTK on my way to work. I had been raised in a good Christian home but a busy work life and young family had consumed my time. WWTK seemed the perfect way to reconnect with my faith and the bible's teachings. And, 40 plus years later I rarely miss a day without WWTK. As a matter of fact, I don't like to start my day without hearing Dr. Cook's familiar greeting —"Hello again dear friends." And, I often reply "Hello Dr. Cook!"
An interesting thing happened a couple of years later. I took a new job in another state. On my very first day commuting to the new job I hit the scan button on my car radio at the time WWTK should be broadcast. To my amazement the radio landed instantly on that day's WWTK broadcast. This was in a large city with dozens of morning radio broadcasts. I was so amazed by this that I wrote Dr. Cook a letter describing what happened. He wrote back to me stating that "God works in amazing ways" and thanking me for sharing the story.
Over the years my career took me to other cities. First on my to do list was to look up the local radio station.
Along the way I was also blessed to meet Dr. Cook's daughter, Lois. Lois has worked tirelessly to keep her father's ministry not only alive but to expand his reach through podcasts and the WWTK web site. So, now I can listen to WWTK any time of the day, save some of my favorites and always seek out Dr. Cook when I need to hear God's messages.
Many of Dr. Cook's words have worked their way into my everyday life. One of his frequently repeated suggestions is "pray your way through the day." I can't tell you how often I do just that. The other one is "small thought here….." I think that's Dr. Cook's way of simplifying God's messages in words and terms in which I can relate.
So, I'll close with "a small thought here:"
Dr. Cook and WWTK have brought God's word to me and changed my life eternally for the better. In Jesus name I pray that WWTK reaches people around the world.
-Randy
Stories like these happen thanks to your support! To help us reach more listeners, please click the donate link below. Thank you!