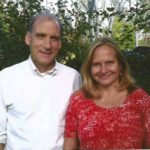 I first discovered Dr. Cook before I met and married my husband. This was back in the mid 1970's, and I listened to his friendly and encouraging voice on a Christian radio station in Chicago, IL as he brought glory to our Lord with each broadcast.
After we married, we would look forward to hearing Dr. Cook as he would ask, "How in the world are you? Are you doing okay my friend?" And, of course, as all who have been so blessed by him over the years smile as we hear him say, "Walk with the king today, and be a blessing." We have always appreciated Dr. Cook's down to earth teaching, meeting us where we are.
One time he was coming to the Chicago area and we had contacted his ministry and invited Dr. Cook to our house for a meal, if he was able to come! Well, imagine our surprise and delight when he HIMSELF called us to thank us! Unfortunately, it wasn't possible, but that's just an example of his graciousness. We have never forgotten that!
Our children are grown, and they, and each of us have a copy of Today With The King, the 20th Anniversary Edition. It continues to be a blessing to them, and to us. Also, being able to order cd's for ourselves, and for others, is greatly appreciated.
We now live in Wisconsin, and for awhile we could view Dr. Cook on WVCY television in Milwaukee. However, now we listen on a local Christian radio station here.
Judy Schell
My wife and I are so grateful for your faithfulness in continuing Dr. Cook's ministry.
In working as a serviceman, (servicing industrial engines), there are many times when I find myself in a situation where I could use an extra set of hands…and I am by myself. So, what's a mechanic to do when there is no help available? Well, as Dr. Cook so often reminds us, "Pray your way through the day."
Dr. Cook has often said in his messages that he is so thankful for the time to share something from the Word of God, day by day in his broadcasts. "It helps to put a handle on the truth so that you can get ahold of it for yourself." How practical his messages are! Not pie in the sky, but truth put into a package that we can take with us, having heard it, and go out into the world and live it…by the power of the Holy Spirit.
We both thank you, again, for continuing this vital ministry! We are greatly blessed by it!
Jim Schell
Stories like these happen thanks to your support! To help us reach more listeners, please click the donate link below. Thank you!