View / Download
Digital Booklets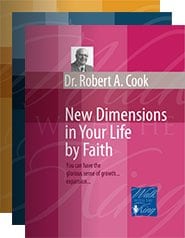 View or download free, easy-to-read electronic booklets from the Dr. Cook E-library. These e-books provide simple, practical commentary on walking daily with Christ in faith. Featured titles include: Pressure, Prayer and Praise, The Healing Power of Joy, Does Anybody Listen to You?, and more.
Receive Dr. Cook's Daily Devotional Book
Today with the King
Walk with the King every day while learning practical ways of growing closer to Christ with Dr. Cook's year-long daily devotional, Today with the King.
Order Now
for a suggested donation