ORDER DR. COOK'S DAILY DEVOTIONAL BOOK
Today with the King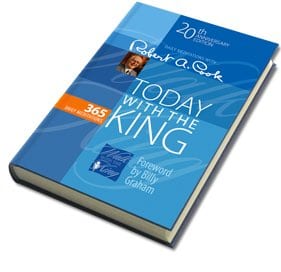 Today with the King, by Robert A. Cook. Walk with the King every day while learning practical ways of growing closer to Christ with Dr. Cook's year-long daily devotional, Today with the King.
Order Now
for a suggested donation
"My 25-year-old copy is so marked up that I wanted to start over! Dr. Cook's observations and commentaries on verses are spot-on! This book is a blessing. Thank you!" - Christine C.
"I love this book. It is well written in simple and quick devotions." - Kasey
"This is truth, God's Word, being shared with us, with easy to understand application. I like to do these devotional times with my children. The devotions are not too long, but always have something deep we can discuss & delve into, depending on what's going on in our lives." - Suz